Reversing the Offshoring trend
The "China plus one" initial response to geo-political tensions and trade wars not to mention the Covid-related supply chain disruptions have gradually morphed into a "China plus many" calibrated de-risking strategy. One reason being the lack of a single alternative accommodating all the production leaving China (1). But there are other factors pushing for a closer-to-home repatriation of manufacturing.
Cost seems to no longer be the only factor driving the current push for re-shoring manufacturing and supply as the differential has narrowed and other factors such as sustainability, social impact, oversight, flexibility and control have helped accelerate the trend(2).
Proximity helps to be more responsive to changes in consumer demand whilst distant production might be more cost efficient. In effect, multinational manufacturers need to be both global and local at the same time(3). Near-shoring is also increasingly attractive where production processes can be made to rely on degrees of automation and therefore less dependent on labor cost.
As always, there are limitations as switching to highly automated assembly lines requires material investments and poses its own set of challenges. In the US, Stanley Black & Decker just announced that it was closing its brand new $90 million factory following technical problems that couldn't be fixed and will keep importing many of its tools(4).
Policy incentives
The near-shoring exercise is nevertheless gaining momentum, representing a reversal from a decades-old trend. American imports of Mexican manufactured goods have grown by 26% over the last 3 years according to the Kearney Reshoring Index. Prologis said the recent allocation of investments in Mexico is just the "first wave" as it takes time for supply chains to pivot in response to changing cost and regulatory frameworks. Prologis cited location, free trade agreements, pro-North American regulations and favorable labor dynamics as the main drivers.
The US and European governments are also aiming to boost their local Industry, reversing the slow industrial decline over the last 50 years with the US committing to spend the equivalent of almost 5% of GDP to boost manufacturing and the EU responding by adjusting state-aid rules followed by governments stepping in with subsidies to secure major manufacturing projects.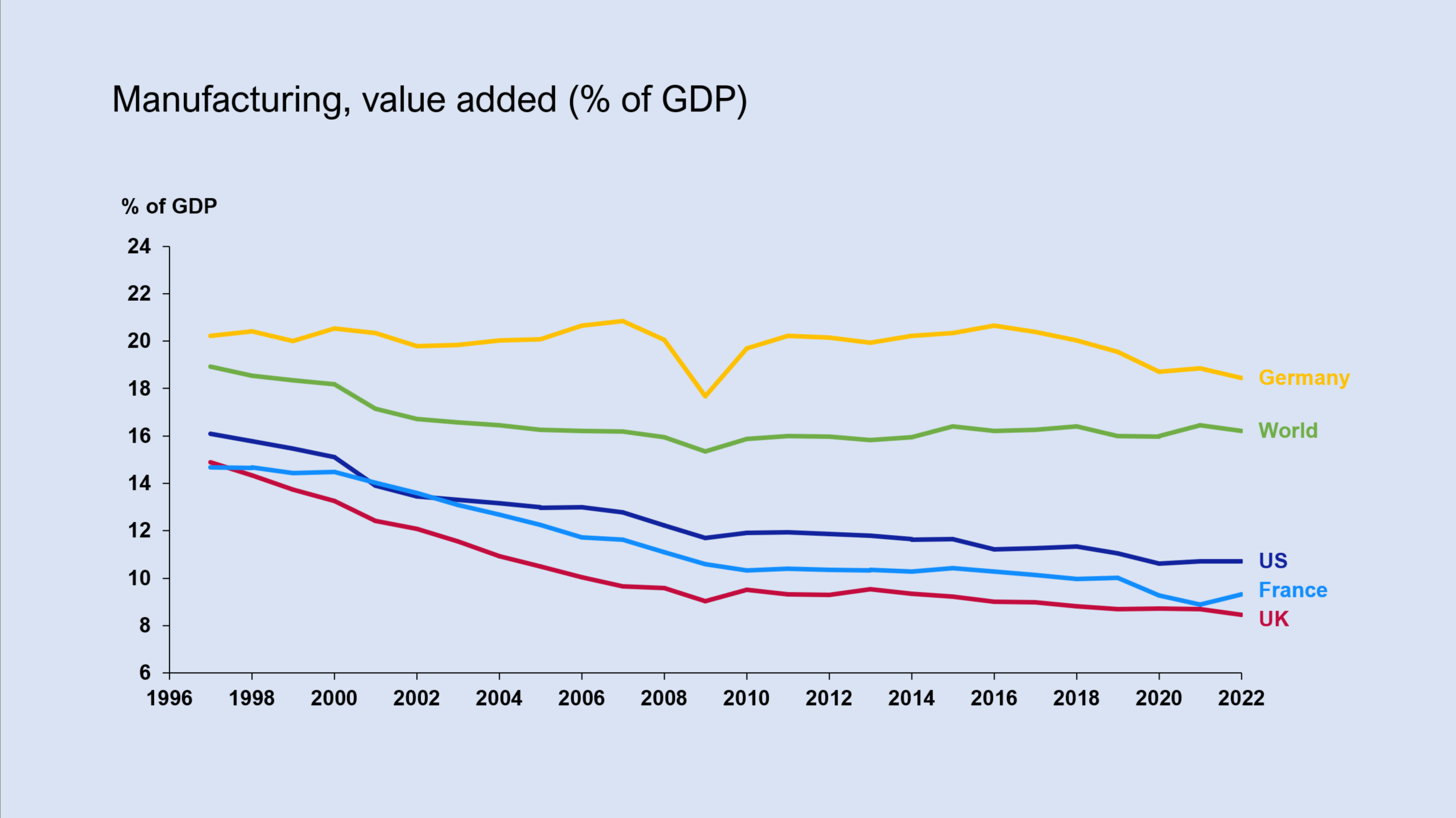 Reshoring pressure should be even greater in Europe considering the higher exposure to China than the US with a total for Europe's big six's around 5.6% of their combined GDP (up from 3.9% in 2011 and compared to the US' 4.2%) (5).
Real Estate impact
Near-shoring, along with other investment decisions, has driven significant growth in occupier demand for floorspace. In 2022, manufacturing occupiers committed to nearly 10 million sqm of space, up 27% compared with 2017(2).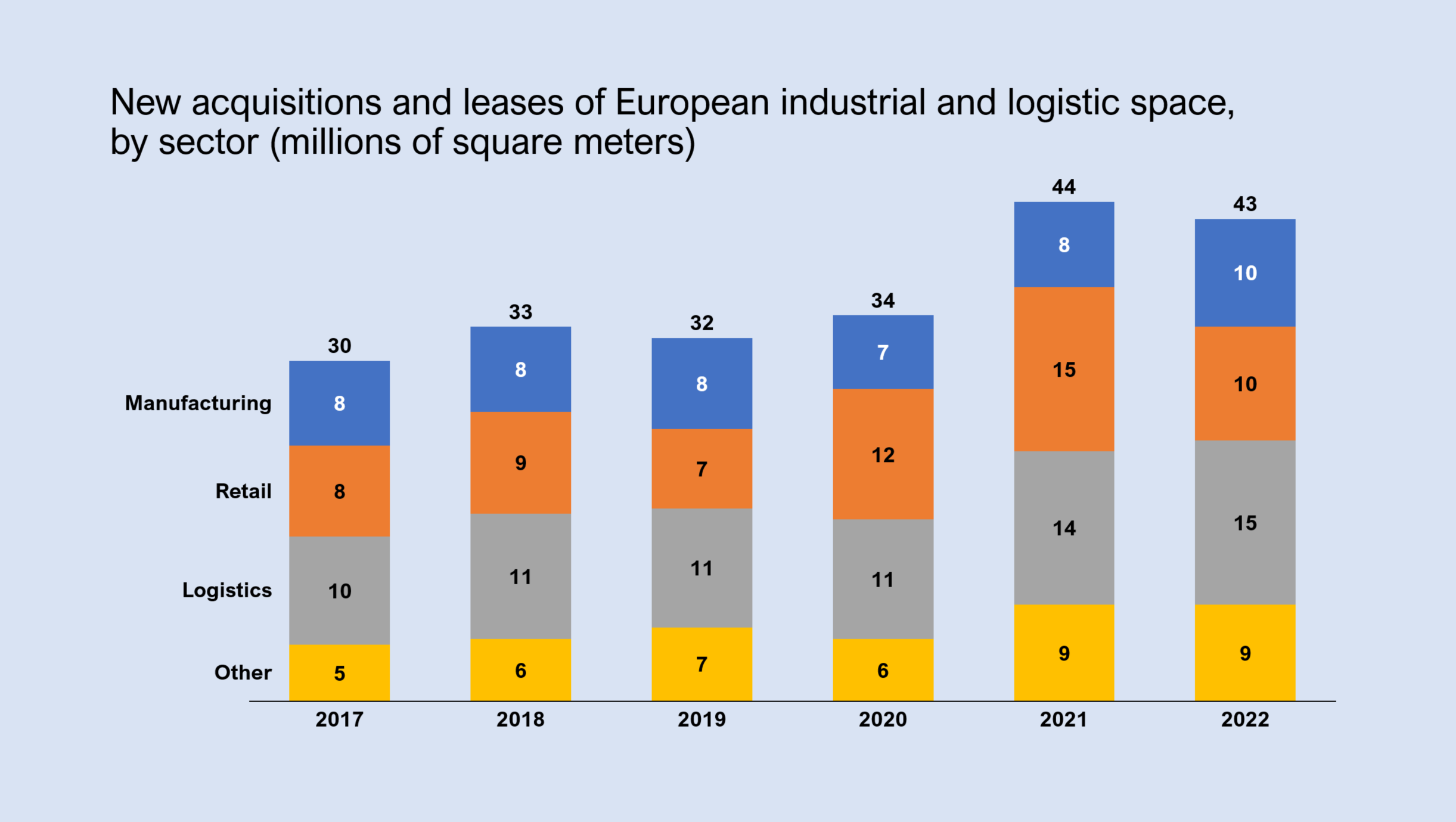 Source: Cushman & Wakefield
Ref.
Prologis recently reported seeing markets tighten significantly in Mexico as companies move manufacturing closer to the end user. Vacancy in Mexico's six major markets fell to just 1.1% in the 2023 first quarter after averaging 6% in the years heading into the pandemic. Warehouse operators are making the most of these near-shoring trends. Prologis reported breaking ground on a record 4 million square feet of new supply, noting that about half the marketplace demand last year was related to near-shoring. Demand has also been rising on the U.S. side of the border, at industrial sites used both for warehousing and for final assembly of products from Mexican factories.
In Europe, re-shoring and near-shoring of manufacturing activity is also accelerating demand for industrial space. The amount of space taken up by manufacturers in key European markets is rapidly increasing and is up 28% last year according to Cushmann & Wakefield. This trend is providing further support for the fundamentals of the Industrial and Logistics real estate sector as well as niche sub-sectors such as industrial outdoor storage (IOS).
As for the locations benefitting from re-shoring, regions neighboring Europe such as Turkey and North Africa are well placed along with Central and Eastern Europe. However, Western, Southern & Northern European countries are also witnessing an increase in re-shoring of production and supply, notably where there are key industries already in transformation, especially Germany, France, Italy, Spain and the Netherlands, or where there are compelling economic or geopolitical reasons for the development of domestic/regional supply capacity(2).
In Short
The recent economic pressures, geopolitical instability, supply chain disruptions, increased focus on sustainability and the need for flexibility has provided a material boost to the near-shoring trend and created further opportunities for real estate investors looking to accommodate businesses' nearer-to-home strategies. The increase in manufacturing activity comes on top of a secular e-commerce expansion trend and coincides with a recent slowdown in new developments. This should logically continue to put pressure on vacancy rates in the medium term and provide further support to the fundamentals of the Industrial and Logistics real estate sector.
________________________________
(1) The Wall Street Journal – As China Risks Grow, Manufacturers Seek Plan B—and C and D
(2) Cusman & Wakefield – EMEA Nearshoring 2023
(3) The Economist – What Barbie tells you about near-shoring
(4) The Wall Street Journal – Why America's Largest Tool Company Couldn't Make a Wrench in America
(5) The Economist – Europe can't decide how to unplug from China